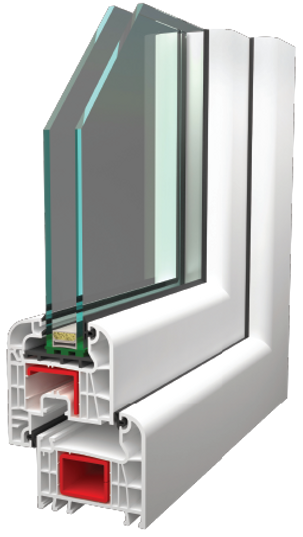 6 chamber construction of profiles with a depth of 70 mm.
The possibility of using triple-glazed units up to 48 mm allow for excellent thermal and acoustic parameters.
Profiles based on ecological calcium-zinc stabilizers.
Rounded shapes and the possibility of arranging with straight or semi-flush sashes give the windows a characteristic and modern styling.
The wide reinforcement chamber ensures high stability
The eight-millimeter overlap between the frame and the sash ensures proper sealing.
13 mm distance of the axis of the fitting notch ensures optimal protection against burglary.,
Uw is 0.95 W / m² K
The heat transfer coefficient for the reference window for the glass Ug = 0.7W / m² K
(Dimension of the reference window is 1230mm. x 1480mm)
Wide range of laminated profile matches windows of different architectural styles.